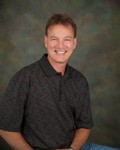 Prophet from Pensacola, USA
"Flame of Fire International"
Johnny & Georgette Foote reside in their hometown, Pensacola, Florida. Both came to know the Lord as teens during the 'Jesus Movement' in the 70′s.

Johnny began ministering in the early 90′s while employed as a pipefitter for the federal government. In 1997 Johnny established Flame of Fire International, a prophetic ministry. In 2002, after retiring from his government job, Johnny began to minister full time building up the body of Christ and bringing a fresh word from the Lord. He is known for accurate words that restore and minister life to believers.

Although he ministers in the office of a prophet, Johnny prefers to be referred to as 'a man of God'. His passion is to hear and declare the heart of the Father to His sons and daughters. He brings a fresh word from the throne to the church, preparing the nations for the coming of the Lord. Healings and miracles have occurred in the meetings as they are fashioned to come into His presence.
He and Georgette are currently members of New Testament Fellowship of Pensacola, FL.
He has been visiting Germany on a regular basis since 2002, serving in a variety of churches across the country. He is a popular guest speak whose sermons and ministry provide both encouragement and direction, building up believers and re-igniting their passion for the Lord.
Visits
2002 - 2015: approximately once a year to Germany an other European countries
Latest visit: 2013 March, Germany, Denmark, Switzerland
Listen to sermons here