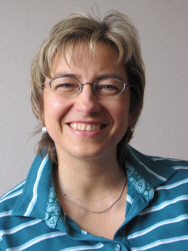 Karin Detert, the founder and director of the "Bridge", has traveled to many diferent nations since the early 1990s. Most visits have been to places experiencing an outpouring of God´s Spirit in Latin America and the English-speaking world. Here she has gained first-hand insights into God's working, picked up on key impulses and reported on them in a number of churches and nations.

Among the places she has visited are Toronto, Pensacola, Houston, Lakeland, Redding(USA), as well as Cali and Bogota (Colombia), Mexico, Costa Rica, Peru, Bolivia, Uruguay, Brazil, New Zealand, France, Israel and Argentina(several times).

She has been able to open doors to German-speaking nations for many guest speakers, particularly those from Latin America, accompanying them as an interpreter.

Karin is not only an investigator and reporter of God's moves, she also preaches herself and has served in many churches and nations.

In May 2009, she took the latest step on her journey by starting "Brücke zu den Nationen - Bridge to the Nations e.V", a registered non profit organization for which she now works full-time.