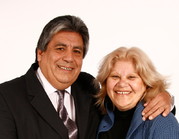 Raul und Betty Reyes,
Pastors and Leaders of Un estilo de Vida, La Plata, Argentina
Raul and Betty Reyes have been pastors for more than 30 years and married for more than 40 years. They have two married sons, Nicolas und Ezequiel, who are both serving the Lord, and six grandchildren.

They are founders and leading pastors of the charismatic church Un Estilo de Vida (A lifestyle), which is one of the biggest in the city of La Plata in Buenos Aires province, Argentina. It has some 150 cell groups attended by more than 1500 people each week. Raul and Betty also oversee numerous churches in other Argentinean cities.

The Reyes are international guest speakers who have served in the power of the Holy Spirit in more than 20 nations and time and again experience signs and wonders.
The mark of their ministry is spiritual parenthood, inspiring pastors and churches with a new passion for the lost and releasing them to enter into the fullness of their gifts and calling.

Over the past few years they have experienced powerful encounters with the Holy Spirit. As a result, their messages concentrate on HIM, going deeper with the Spirit, building a relationship and friendship with Him, His manifest presence and the glory of God. They have given over the leadership of the church to the Holy Spirit and work with Him as co-pastors.
Visits
They have been coming to Germany for 19 years and usually visit once a year in the autumn.

Next visit: October 2013, Germany, Austria

Listen to sermons here